Bangkok, Thailand – How might creativity be the key to achieving social transformation for everyone? Six groups of university students from various universities in Asia made it to the final selection of the Global Water and Sanitation Center #SynergizingSDG6 video contest on TikTok to showcase their winning entries. Getting creative with storytelling, six winners created one-minute videos that highlight the importance, challenges, and opportunities of clean water and sanitation while linking it to sustainable development goals such as Zero Hunger, Gender Equality, and Sustainable Cities and Communities, among others.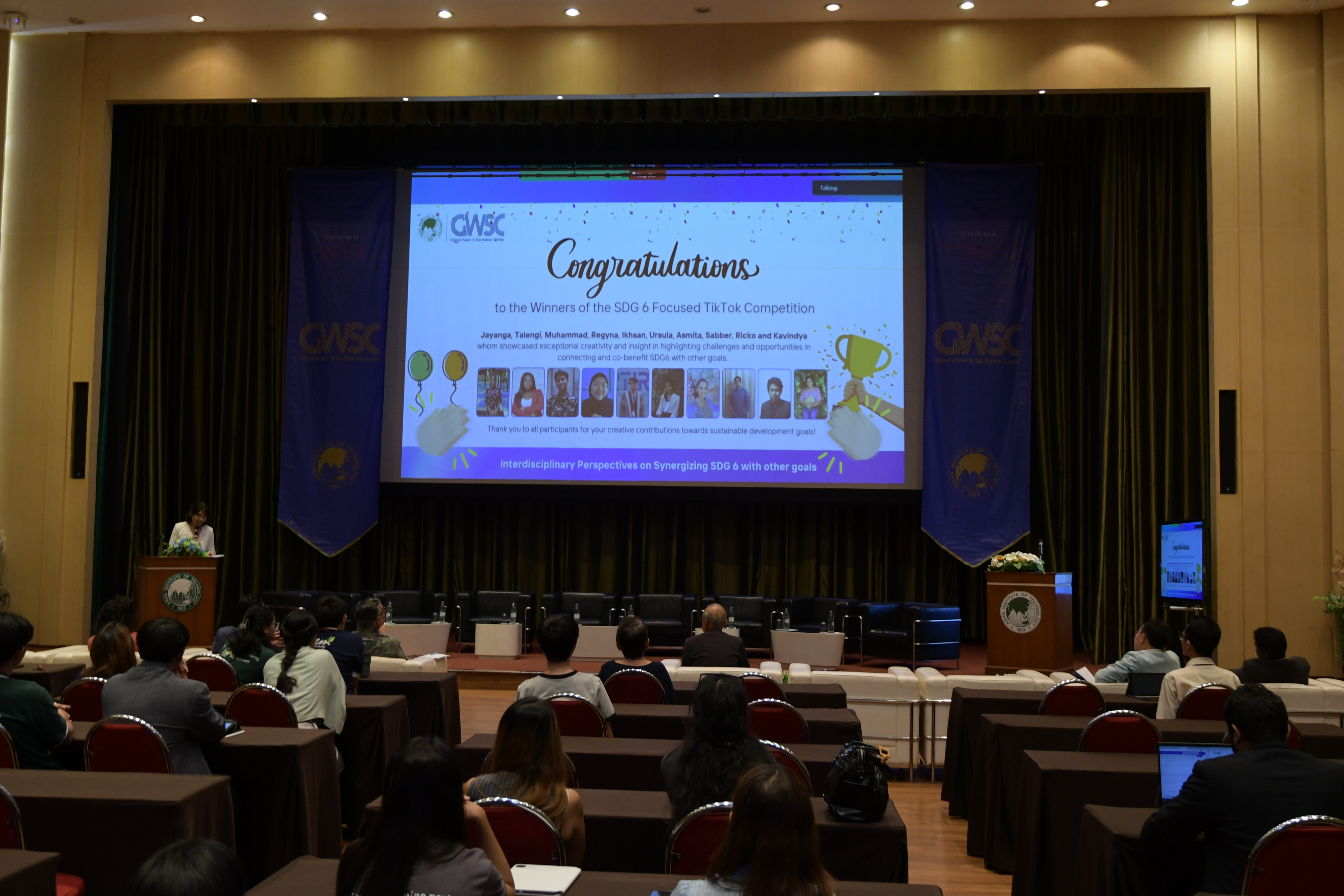 Kavinda Gunasekara, Chief Operating Officer at GWSC, emphasized social media as a tool for social change by launching a new initiative that encourages students to promote critical causes through creative content. "At the Global Water and Sanitation Center, our mission is to revolutionize the way we approach social change. By bringing students onto TikTok to showcase their talent and creativity, we believe we can harness the true power of social media to raise awareness about critical issues, such as SDG6, and make meaningful contributions to our global community," Gunasekara underscored.
Out of the many entries, six stood out with their innovative ideas and compelling presentation. Link to TikTok video. The winners are Jayanga Nishadhi Samararathna and Talengi Kasambara from AIT, Thailand, who tackled "Enhancing Sanitation and Resource Recovery: Circular Economy Approaches to Septic Tank Systems." Muhammad Farhan Muharrahman, Regyna Elrica Dewati, and Ikhsan Rifqi Wiryawan from the National Institute of Technology, Indonesia, won for "Building Safe Water Garden in Nagrak Village: A Step Towards SDGs 6." Asmita Bhattarai, also from AIT, Thailand, won for "Ripples of Hope: Uniting for Sustainable Change with SDG 6." Sabber Ahmed Chowdhry, also from AIT, Thailand, won for "Sustainable Parenting, and Sustainable Family." The remaining winners are Ricko Putra from Diponegoro University, Indonesia, for "Sustainable Development Amidst Contradictions: Analyzing the Clean Water Crisis and its Implications on Golo Mori Village, East Nusa Tenggara," and Kavindya Wijerathna from the University of Ruhuna for "Water Sanitation and Quality."
The winning entries impressed the judges with their unique approaches to addressing the issue of clean water and sanitation as it relates to various SDGs. The competition showed that the youth is increasingly becoming aware of the importance of sustainable development. Their creative ideas could have real-life applications in solving the global problem of water scarcity and sanitation.
Isha Basyal, Deputy Chief Operating Officer at GWSC, notes how the Synergizing SGD6 Tiktok Competition has been a resounding success, showcasing the immense potential of young people to effect meaningful change in the world. Basyal also underscored the importance of amplifying youth voices in promoting SDG6 and its linkages to other vital causes. She believes that the competition has proven to be a catalyst for social transformation, with participants demonstrating a deep understanding of the critical importance of water and sanitation and the role it plays in our global community's wellbeing
"The Synergizing SGD6 Tiktok Competition showed that the future of the world may rest on the youth, who have the passion, creativity, and innovative ideas to solve the world's problems," Basyal highlighted. The Global Water and Sanitation Center aims to continue engaging and inspiring young people worldwide to contribute to a sustainable future—from creativity to innovation and social and economic transformation.
—
This article is written by Renz Prudenciado.