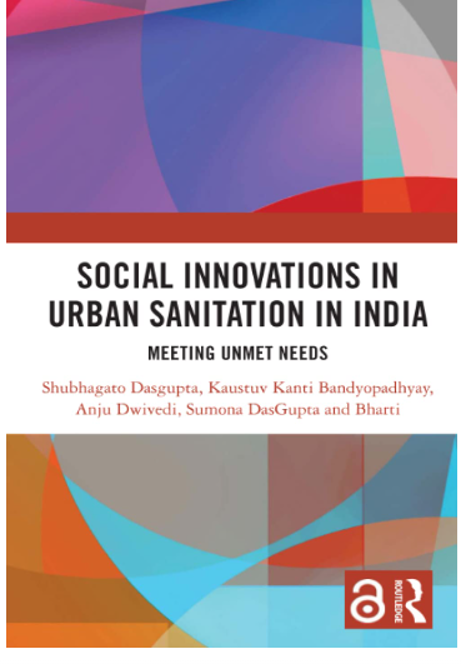 Civil society organisations (CSOs) have played a pivotal role in promoting contextual and sustainable innovative models to improve urban sanitation for decades. These innovations range from mobilising citizens, particularly from the low-income communities, to generating awareness and demand services from the service providers, building community-managed systems for ensuring the sustainability of created assets, providing low-cost infrastructure solutions, organising informal sanitation workers to demand dignity and justice, generating critical knowledge and promoting collaboration and partnerships with various stakeholders including governments and private institutions to serve the unserved communities. Lessons from these social innovations, cultivated in various contexts and regions, are essential to achieve the universal sanitation goals as laid out in Sustainable Development Goals (SDGs) as well as in the national priorities.
Against this backdrop, Shubhagato Dasgupta, Anju Dwivedi (Currently working in SCI-AI project at GWSC) with other authors from Society for Participatory Research in Asia (PRIA). Engaged in a participatory research study in partnership with several Indian CSOs and social movements which have been pioneering myriad social innovations in urban sanitation. This book is the final outcome of this research study and numerous conversations with the leadership of these organisations.
The book recognizes that Social innovation is a continuous process as new unmet needs emerge with time. Such innovations can help mitigate some intractable problems; but new challenges emerge, thus promoting social innovations to grow and adapt to meet the unfulfilled needs of the people.  Social innovations remain critical to addressing future emerging challenges and need support to thrive and survive. Social innovations need appropriate conditions to take roots, such as strong leadership and vision by social innovators, partnerships and alliances, enhanced capacities of institutions to respond to intractable problems, empowerment of communities and the most marginalised to gain a voice to articulate their unmet needs and demand accountability from the institutions of governance. This book provides evidence of the critical role that CSOs and the social innovations championed by them have played in the past and continue to play in the current march towards global, safely managed sanitation, alongside governments taking more responsibility and increasing support to the sector. It is hoped that this book will also 'reignite' this. A constructive discussion on how all stakeholders could contribute to creating a more robust ecosystem for social innovation and the critical role that CSOs need to continue to play in the sector.
This book seeks to be a game changer because by bringing a new perspective to the study of urban sanitation in India it suggests a whole new way in which the issue can be approached. The book has been organised into nine chapters following this introductory chapter.
The first chapter, 'Urban Sanitation Landscape in India: Setting the Context', draws on the recent evolution of India's sanitation journey. Following this historical analysis of the evolution of innovative practices in urban sanitation, the second chapter, 'Social Innovation in Urban Sanitation: Experiences from India', unpacks the concept of social innovation in more detail. Tt applies the conceptual frameworks to understand the changes being made in the Indian urban sanitation context. issues. The third chapter, 'Organisation Building for Inclusive Urban Sanitation: Organising the Unorganised', focuses on mobilising the unorganised sector in urban sanitation . The chapter centres on building organisations for the poor and marginalised to meet the unmet needs of sanitation and bring about social transformation by mobilising the collective voices of people in a way that they become part of the solution. The fourth chapter, 'Sustainable Behaviour Change in Community', explores various innovations primarily facilitated by the CSOs in urban sanitation spaces to encourage behaviour change among communities and other stakeholders.
The fifth chapter, 'Sanitation Work and Workers: Prioritising Issues of Rights, Dignity and Safety', analyses by the CSOs, which have enabled access to the rights and dignity of sanitation workers and reduced the drudgery of their work. It traces the evolution of laws, policies and programmes directed at ameliorating the dismal condition of sanitation workers, particularly of manual scavengers, while pointing to the problem of lackadaisical implementation and lack of accountability of public institutions. The sixth chapter, 'Innovative Technology: Connecting the Disconnect', highlights that to the extent that every technological innovation is a response to a social problem, it constitutes a social action in and of itself. Undoubtedly, there is a critical role played by technology in meeting unmet human needs, which lies at the heart of the idea of social innovation.
The seventh chapter, 'Multi-stakeholder Capacity Building for Inclusive Urban Sanitation', examines innovative practices for capacity building of multiple stakeholders in urban sanitation. Capacity is the ability of an entity to achieve its mission or mandate; and enhancing it requires strengthening its intellectual, institutional and resource base. Eighth chapter, 'Urban Sanitation: Policy Research and Advocacy', describes how community action and institutional action can be synergized through research and advocacy so that, equipped with necessary information and ideas of what is feasible at the community level, it becomes easier for people to demand accountability in the arena of urban sanitation as well as scale up loc al initiatives. The final chapter draws conclusions by highlighting the nature of social innovations fostered by the CSOs in the urban sanitation spaces while suggesting some critical factors for mainstreaming and scaling up these innovations. This book is going to be relevant for practitioners, academics, and policy makers.
Editor Thusitha K. de Silva, Written by Shubhagato Dasgupta, Anju Dwivedi.